"Come on Amy, let's decorate our tree", she heard her mom call standing beside the tree with decorations lying on the floor.
Amy couldn't take the eyes off the happy family playing in the snow making a snow man.
"Amy", her mother called again.
"Coming", she called back and started walking towards her mother.
"What's wrong Amy"?
"Nothing mom", Amy lied. The truth was she spent the whole day by the window wishing to see her dad come home this Christmas atleast. She searched her memory to remember when was the last time the whole family spent Christmas together. Her dad was always busy but he was busiest during the Christmas time as he said that he needed to fill in the whole year's report. She tried to understand what her father did but she never figured it out.
She carried on helping her mother decorate the Christmas tree in silence. She knew her hope of seeing her dad this Christmas was a waste of time. She had heard mother pleading on phone 2 days ago –
"Amy misses you Harry. She wants her dad to be there for this Christmas. Is that too much of an ask?" silence followed.
"I don't think even a unicorn would make her as happy as seeing you home for the holidays", she said after a while.
"Fine Harry… I will manage something like every year", she said and hung up.
"Where do you want this thing to go Amy", her mother asked holding up a golden color star that Amy had made in her art class.
"Here", Amy said.
"Don't you think it would look better on the top", she heard her fathers voice.
She turned around and saw her dad standing there with his arms open. She ran as fast as her tiny legs could carry and clung to him.
"Dad…You are home", she said with tears rolling down her eyes.
Her dad kissed her and wiped her tears and said, "I would do anything to make my little Princess Happy".
Lily let father and daughter have their moment and later joined for a group hug.
"What do you say Amy, star goes on top"? He asked placing star on the top.
"Yes Dad. It's perfect".
The rest of the day they spent decorating the tree, making snow man while Lily prepared the Christmas Eve dinner. Amy felt like she was the happiest kid on earth. She had after all got her Christmas present… her whole family.
"Can I sleep with you today mom, dad"? She asked while having her dinner. She knew soon her father would leave again and she wanted to spend every moment with him when he was there. She placed Cookies and Carrots on fire place for Santa and his reindeers and went to sleep with her parents in their bed room.
"How come you are here"? Lily asked Harry after Amy was asleep.
"You don't know"? He asked with a puzzle expression on his face.
"No", she replied with same astonishment as his.
"You mean to say, you didn't send me this letter'? He asked her taking out a letter from his pocket and giving it to her.
She unfolded the letter and started reading it. It was a letter from Amy to Santa.
"Oh", she managed to say trying to fight a lump in her throat.
"I know. I knew she missed me but I never knew she was unhappy. I don't want to be the person who makes her unhappy. I will talk to my boss and try to be home more and if he doest understand, I will search for a new job. I don't care… all I want is to spend time with you and my princess. I have realized after this letter that Christmas is all about celebrating it with people you love not presents. You were right… no present in the world would have made her as happy as she is now", he said looking at his daughter sleeping with a smile on her face.
He looked at his wife who was still standing in same position holding the letter with a puzzled look on her face.
"Are you ok?"
"Yes, just that… if I dint send you this, then who did?" she asked her husband.
"I don't know", he replied wondering.
Amy's smile widened as she knew exactly who had sent it to him… Santa.
PS- I really do believe in Santa… really… really :).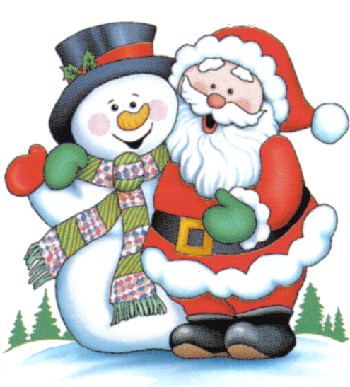 Merry Christmas to All you guys!!!