I m loving my 'Top 100 Movie Countdown' posts. The best part of this is that I am watching all my favorite movies all over again and that's making me real happy. This time instead of going with just 10 movies, I have decided to go with 20. I m way too excited to be that patient to reach Top 10. I want to reach there as soon as possible. And also because I m getting too confused as there are way too many good movies to just pick 100. So, for a change here are next 20 movies –
70) Juno (2007)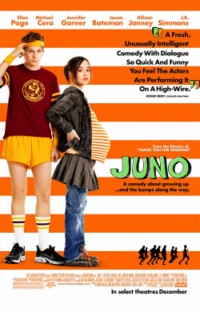 I had two movies contending for this spot Juno and X-men. I love X-men movies but somehow even till date I prefer watching the cartoon :P. So, I picked Juno… which is a brilliant movie. It's a serious movie with a very serious issue dealt in a funny way. Its one of the best examples for dramedy film. Ellen Page in this movie is so cute and brilliant that I till date think her performance should have won her an Oscar.
69) The Philadelphia Story (1940)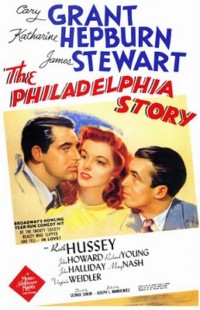 I guess classics are classics for a reason. There are very few movies made now a days that match up to the natural acting, realistic stories and brilliance of the old movies. To be very honest, when I 1st saw this movie I dint find anything great about it. Actually, I wasn't a fan of old movies in general because all the color, technology appeals more to me. But once you realize the age they were made in and mature as a viewer you have a new level of appreciation of them. The Philadelphia Story is a perfect example for classical movie with brilliant performances by legends like Cary Grant, Katherine Hepburn and James Stewart. James Stewart is one my favorite actor of all time and I promise you, you will find many movies of his in this list.
68) American Beauty (1999)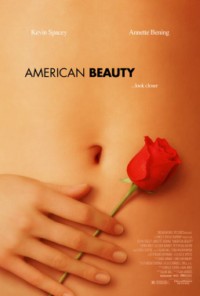 There are very few Drama's that I like and even lesser that impress me. This is one of those intense, serious Academy Award material kind of movie that not many will like. But in my opinion the movie is beautiful, mostly because the writing deals with human emotions in a real way. Every character of this movie feels real. What makes the movie good is that it's believable… very believable.
67) Moulin Rogue (2001)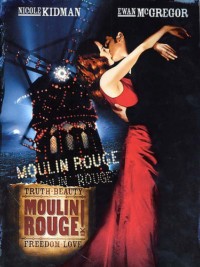 This is that movie that made me a fan of Nicole Kidman. One of the most extravagant and artistically pleasing movies I have seen. The story, the music, the visuals, the acting everything is amazing. It has taken that a risk that most of the movies (which is why some hate the movie) but that's the main reason I love it! Nicole Kidman as Satine is beautiful.
66) Dead Poets Society (1989)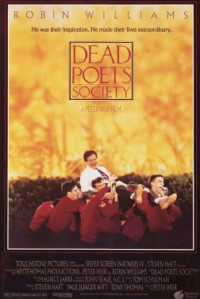 My sister had asked me to the movie while my Jiju (brother in law) told me I would die with boredom. But after watching the movie I agreed with everything my sister said. This is one of the best Robin Williams movies. His acting in this movie is flawless. This is one of those heart touching… heart- wrenching infact, and thought provoking movies I have seen. Generally, I don't like watching movies with sad endings because they depress me but with this movie I always make an exception. Even though this movie makes me cry like a baby, I think I can afford all those tears because this movie is brilliant. One of the most underrated movies of all time.
65) The Matrix (1999)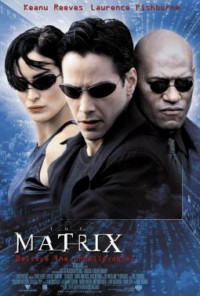 Ok, I admit… when I 1st saw Matrix I dint quite understand it. All I could see was very charming Reeves doing all super human things. It was only when I watched the movie for the second time I could realize the intelligence of the script. The script is simply spectacular and I couldn't find loop holes in it atleast. The acting is too good. The choreography is magnificent. I don't have to say about special effects as that's what impressed the 1st time and that's what made me watch it again.
64) Sleepless In Seattle (1993)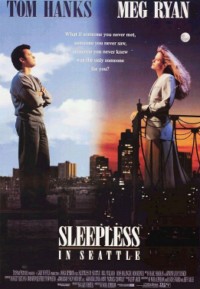 Other one of my favorite romantic movies. The movie makes you feel good at the end and puts a smile on your face. I m a sucker for such kind of movies. Tom Hanks and Meg Ryan are as usual adorable in the movie. I actually think that Meg Ryan is cutest romantic comedies actress, who makes you go all mushy. I don't have to say anything about Tom Hanks he is one of the best.
63) Home Alone Series (1990, 1992 and 1997)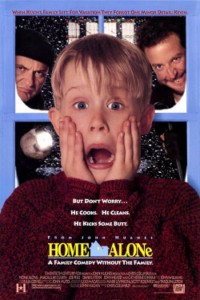 How I love these movies! I have seen these movies (the 1st and 2nd mostly) a billion times but never get bored. Everytime they are aired on television I m glued to them. The movies are incredibly funny and Macaulay Culkin is so brilliant that he carries the movies on his tiny shoulders. These movies are perfect in my eyes.
62) Julie and Julia (2009)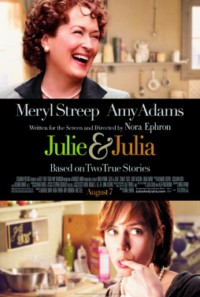 This is a movie heart warming, endearing, charming, delightful, brilliant, awesome, amazing, gleeful, so 'Aww', sweet, lovable … you get the point right? Before watching this movie I had no clue about who Julia Child was, so after the movie I saw a few videos of hers. While watching the movie I loved the acting by everyone but after seeing the videos of Julia Child… I m blown away by the acting of Meryl Streep. She brought the character of Julia Child alive on big screen. The mannerisms, the way she talks everything was very apt. This movie just reinforces my point that Meryl Streep is one of the greatest actresses to walk on this earth.
61) Tootsie (1982)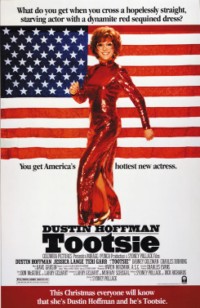 Dustin Hoffman is so very startling in this movie. There were few moments where I was sitting and wondering… Is this really Hoffman or is it really a woman. Hoffman as Dorothy Michaels is so splendid. You watch, re watch this movie for its brilliant comedy (rated as 2nd best comedy movie by AFI) and mainly for Hoffman as Dorothy Michaels. He is brilliant!
60) Jurassic Park (1993)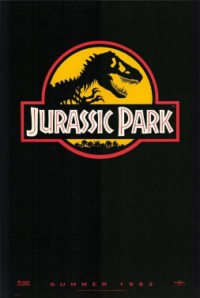 This was my very 1st movie in a theater. I was 5 (I think) at the time that it was released. I went to this movie with my parents and Granddad. My dad tells me that I was marveled by the movie and after coming home that was all I spoke about. I don't remember that much but I remember watching this movie later and being astonished by it. The acting, plot, suspense and effects of the movie are enthralling. One of the best thriller movies I have seen till date for sure. (I like Jurassic Park 2 too but still 1 remains special cause it was my 1st movie).
59) Terminator 1 & 2 (1984 & 1991)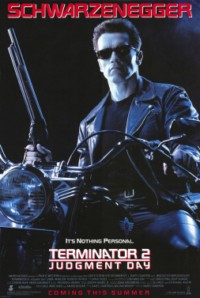 Yes, I love Terminator and in my view Terminator 1 & 2 are few of the finest movies ever made… when James Cameroon made them actually. He is one of the best directors and it shows off in these two movies. If you haven't seen these movies… you have to. I liked the 2nd part a bit more than the 1st cause of the story line. I haven't seen the third. And when I saw the 4th I wanted to run away from theater… literally during the 1st half. The second half was better though.
58) Double Indemnity (1944)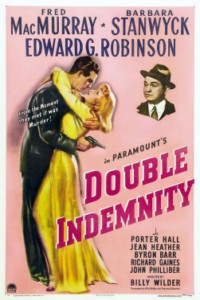 When I 1st saw Jism (Hindi movie) I was pretty impressed with the story actually. It was only after watching Double Indemnity that I realized that Jism wasn't all that great. As it stands no where close to Double Indemnity which is a classic in every sense. It has all the elements that a good film noir must have – crime, drama, a femme fatale and a victim of fate. The acting is flawless and movie keeps you glued till the very end.
57) Shrek Series (2001, 2004, 2007, 2010)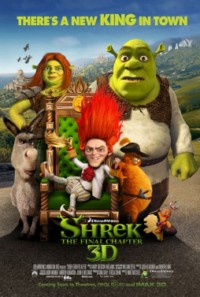 How can you not fall in love with the big, fat, ugly, big hearted, green ogre? How can you not like the talkative Donkey who is funny as hell? How can you not find the voice of Puss sexy (Antonio Bandera's has the sexiest voice according to me)? In general… how can you not like this movie? Shrek if you ask me is one of the best animated movies ever made. Except for the Shrek the Third, the other movies… Shrek, Shrek 2 and Shrek Forever After are just brilliant.
56) Blood Diamond (2006)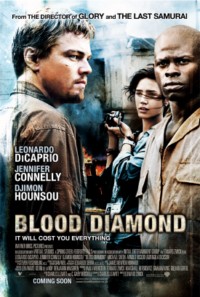 A movie by one of my favorite actors of all time. Even though Leonardo Dicaprio was nothing less than remarkable in this movie, for me it was Djimon Hounsou who impresses more. He holds you from the very 1st scene till and end and makes you feel for him as the movie goes on. Ofcourse Leo and Jennifer Connelly aren't behind as they play their characters to perfectly.  The acting is top notch; the story is marvelous yet sad.
55) The Notebook (2004)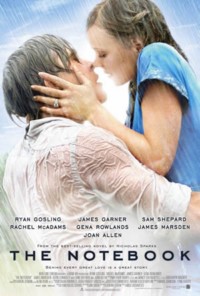 One of the best movies adapted from the book. Very few movies do justice to the books they are based on but this is not one of them. It's so well adapted that I can as it's nearly as good as the book. The magic of the movie is such that you don't keep thinking about the book. The best thing about this movie is the chemistry between the lead actors and also the photography. The movie is just beautiful to look at. It pleases both your eyes and the heart.
54) Bourne Trilogy (2002, 2004, 2007)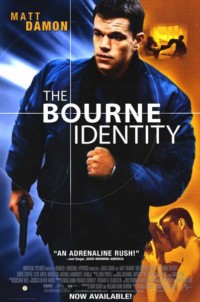 I was randomly surfing through the channels, found Matt Damon killing someone, blowing up a house and looking awesome at the same time so decided to watch him more… that's how I ended up matching the movie. When the movie got over I understood nothing as I was watching Bourne Supremacy without watching Bourne Identity. So the very next day went to the DVD shop and got all the 2 DVD's and from that moment it has been my favorite spy movie… yes more than James Bond. The acting, story is amazing. It keeps you glued to it from the beginning to the end. I can't wait for Bourne Legacy to release.
53) Grease (1978)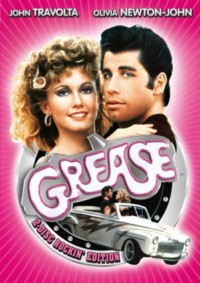 'You're the one that I want…(you are the one i want), o,o, oo, honey'. No matter how much I try I cant get this song out of my head I can't nor can I get John Travolta's expressions when sings – ' it's electrifyin'!'. I love this movie and I sing and dance with every time I see this movie. 'Summer Nights' is another brilliant song in this movie followed by 'We Go Together'. One of the best musical movies I have seen. Man! John Travolta can dance and sing!
52) French Kiss (1995)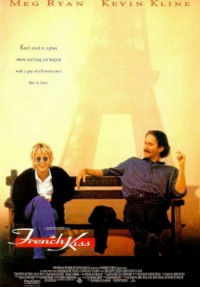 This is a beautiful movie. Meg Ryan's Kate is so very believable… you can see every emotion clearly on her face. Your heart goes out for her every time she cries. I had never seen Kevin Kline in any movie before but he plays the character of a golden hearted thief to perfection. The chemistry between the two is brilliant and during the whole movie you want them to get together, not once wanting her to get back with her ex. One of best romantic comedies ever made. I so wish people could make more movies like this one.
51) Lion King (1994)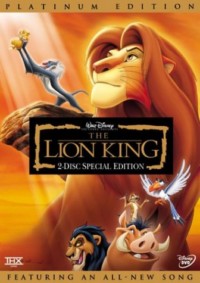 This movie puts a smile on my face… a very big smile. My school had decided to take us to this movie but I got late and missed the bus and nagged until my parents promised me to show this movie. I saw this movie sitting in between mom and dad munching the popcorn and well having one of the best experiences of my life. This was my very 1st animation movie. Well, moving on Lion King is a beautiful movie. The characters, story, animation are amazing. The songs… oh the songs… are very extra ordinary. I especially love the song, "Can you feel the love tonight"… its one of my most favorite songs ever. Lion King is special movie.
PS – How do you like the new look?