TTT – Books I Recently Bought
Today's Top Ten Tuesday topic is Last Ten Books That Came Into My Possession. I thought of taking the things a bit more further and share with you guys all the books I bought in the months of March, April, May and June.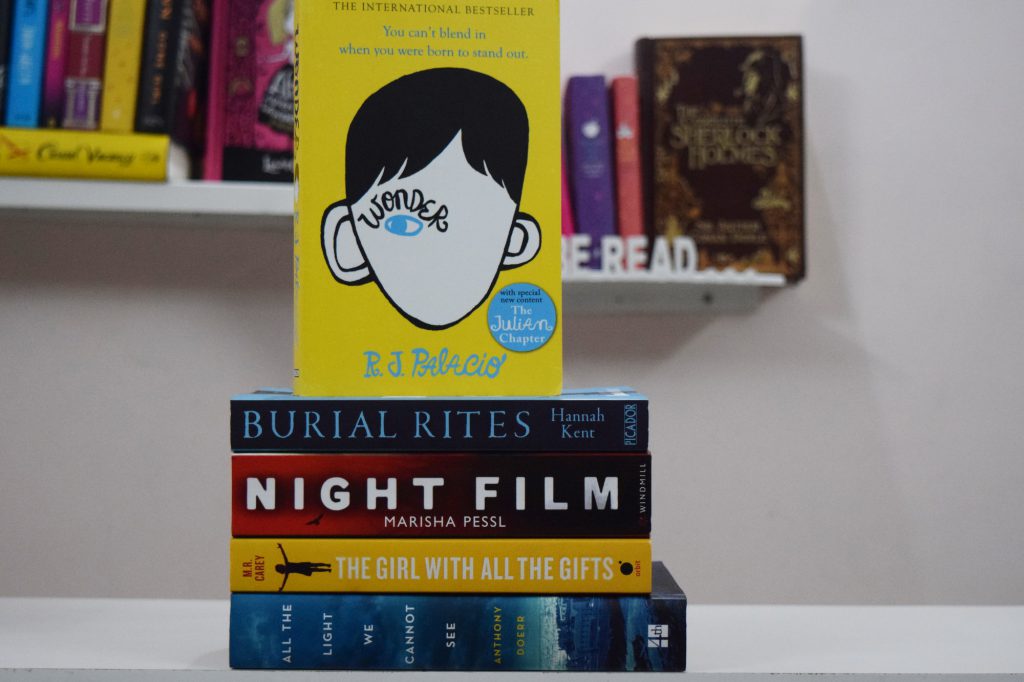 Wonder by RJ Palacio – Wonder is a middle grade novel that has been on my wishlist for the longest time. I have heard nothing but great things about this book and can't wait to read it.
Burial Rites by Hannah Kent – This book was on so many Best Books Lists last year that I have been itching to lay my hands on the book. The book is based on a true story of Agnes Magnúsdóttir, who was the last woman put to death in Iceland.
Night Film by Marisha Pessl – Night Film has got really mixed but the blurb of the book sounds right up my ally.
The Girl With All The Gifts by M.R. Carey – I have stayed away from the reviews of this books. The blurb of the book tells you nothing about what the book is about and I want to go in to this book blind.
All The Light We Cannot See by Anthony Doerr – This book follows lives of two people during World War II and I have heard nothing but great things about it. All the rave reviews is the reason I picked this one up.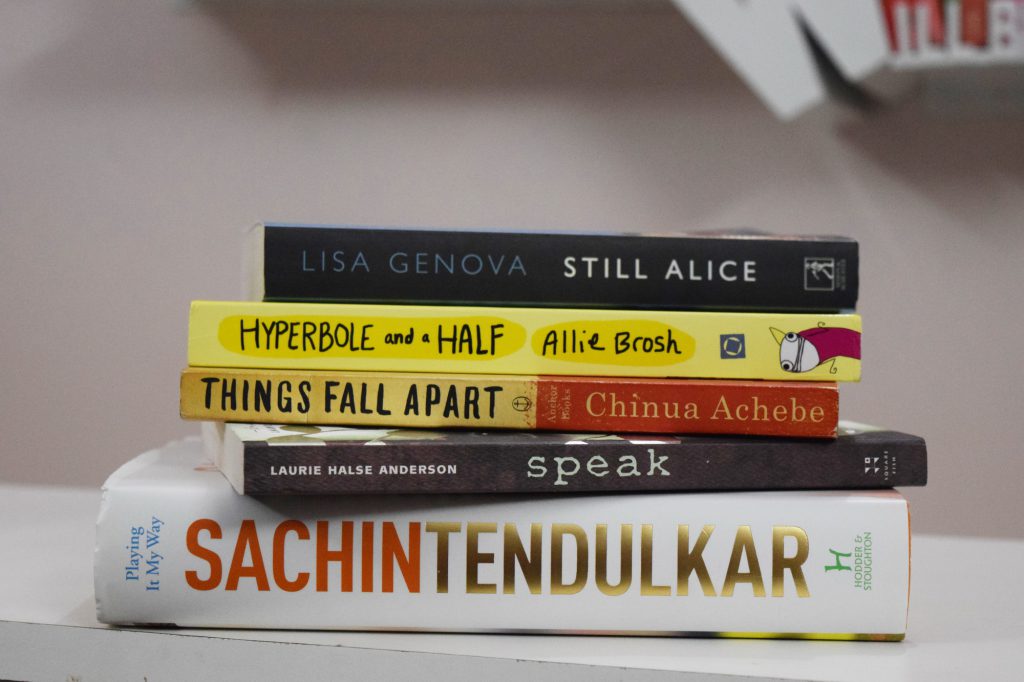 Still Alice by Lisa Genova – A beautiful, beautiful book. I have already read this book and my review is pending. I need to get on that ASAP.
Hyperbole and a Half by Allie Brosh – Hyperbole and a Half is one the first blogs I came across and also one of the funniest. I am super excited to read this book.
Things Fall Apart by Chinua Achebe – I was gifted this book by one of Cnu's cousins. She said it was one of her favorites and I trust her opinion.
Speak by Laurie Halse Anderson – Yet another book that I have been wanting to read for the longest time. I have heard good things about this YA novel. Let's see how much I love it.
Playing It My Way by Sachin Tendulkar – If you know me, you know that I am a huge Cricket fan. And it shouldn't surprise you that I decided to pick up the auto-biography of one my favorite Cricketers of all time. But, honestly I bought this book more for my husband than me.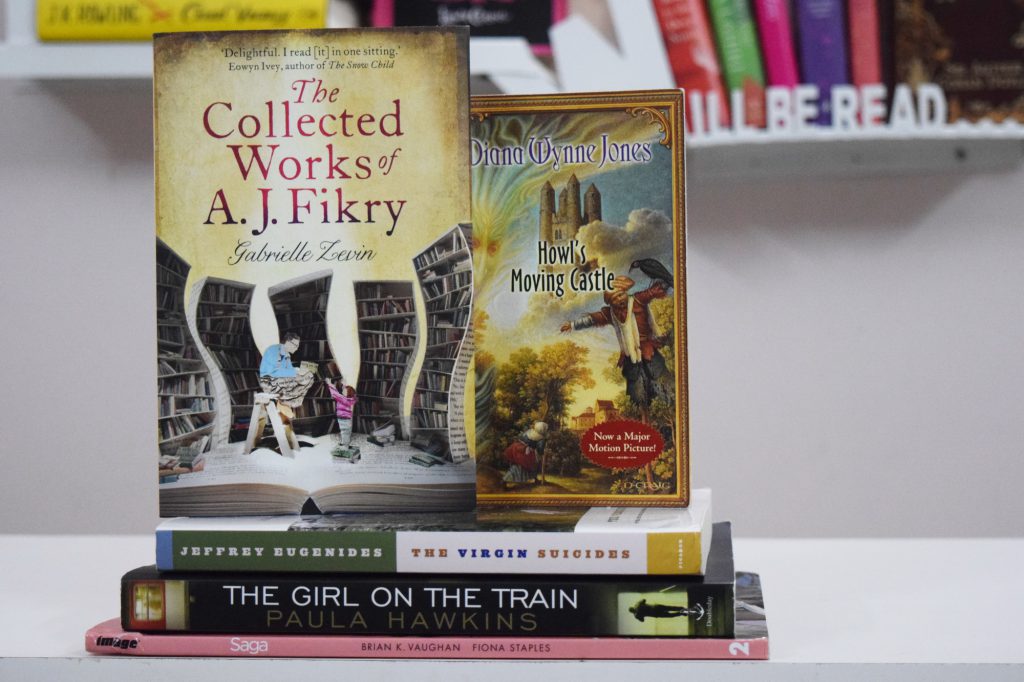 The Collected Works of A.J. Fikry by Gabrielle Zevin – The Collected Works of A.J. Fikry by Gabrielle Zevin aka The Storied Life of A.J. Fikry is a book I have heard nothing negative about. Besides, everyone says that this book as good as one of my favorite books of all time The Book Thief. High exceptions from this one for sure.

Howls Mowing Castle by Diana Wynne Jones – I have already read this book and will talk more about it in my May and June book wrap-up, which will be up soon for sure.
The Virgin Suicides by Jeffrey Eugenides – The book that was so excited for that I started reading it the moment it arrived. I finished the book today and I will talk more about it in my July wrap-up.
The Girl on the Train by Paula Hawkins – Another book that I have already read and liked more than I expected. Will discuss more in June wrap-up.
Saga Volume 2 by Brian K Vaughan and Fiona Staples – I have read this too and loved loved loved it. Saga is currently one of my favorite graphic novel series.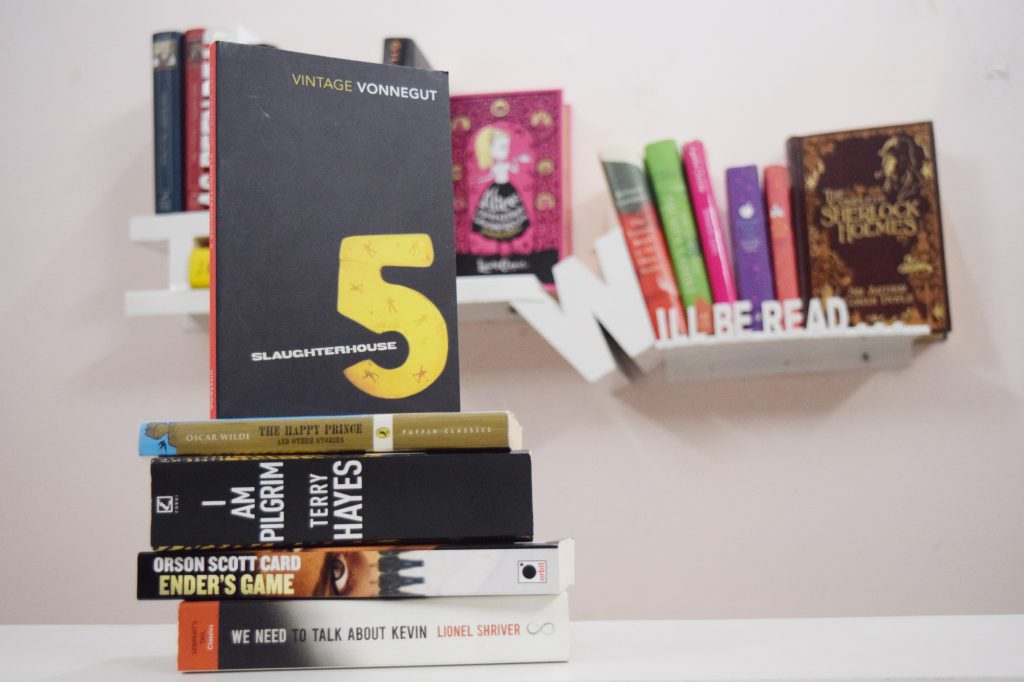 Slaughter House 5 by Kurt Vonnegut – I am ashamed of the fact that I haven't read any Kurt Vonnegut books yet. I have been told that Slaughter House 5 is one of the best books to have ever been published.
The Happy Prince and Other Stories by Oscar Wilde – I have only read The Picture of Dorian Gray by Oscar Wilde and I need to change that as Oscar Wilde is a fantastic author and I am sure his books will be nothing short of fantastic. This book was given to me by my SIL so it is special too.
I am Pilgrim by Terry Hayes – I have heard that James Bond fans will enjoy the book. So I decided to get it for my husband, who has read 8 pages to only never pick it back up.
Ender's Game by Orson Scott Card – This book has always intrigued me. I wrestled with myself on whether to buy this book but later decided to separate the art from the artist.
We Need to Talk About Kevin by Lionel Shriver – Another book that has been on my TBR for the longest time. I have heard great things about both the book and the movie. I cant wait to read this book and watch the movie finally.