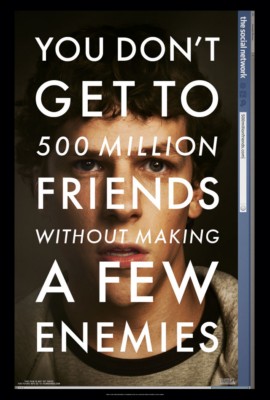 I had no intention of watching Social Network because somehow I was quite sure that this movie wouldn't work… at least not for me. When the reviews came out I was stupefied. But it was after S insisted that I decided to watch this movie and Boy Am I glad to have seen it! I would have missed one of the best movies this year just because of my prejudice.
As you know the movie is based on the book 'The Accidental Billionaires' by Ben Mezrich (I haven't read the book but want to) which is in turn based on the founder of Facebook Mark Zukerberg (who has dismissed the movie as fiction for some reason) and his two law suits. The plot doesn't seem all that interesting but trust me the movie is intriguing from the very 1st scene of Mark being dumped at the bar. The screenplay of this movie by Aaron Sorkin is remarkably extraordinary. He has managed to bring the human drama of trust, friendships and betrayals feel real on the reel making it a hearty and an incredible movie. The non-linear plot line just adds that bit of zing to the story. The clever and the sharp dialogues please you immensely. The writing and the dialogues feel like the work of a genius.
Backing the brilliant drama is as good if not more breathtaking performances. Jesse Eisenberg as Mark is nothing less than impeccable. He plays the character of a nerd with 'what next' attitude who can is very arrogant, rude yet lonely and introvert brilliantly. Justin Timberlake as Sean Parker and Armie Hammer as the Winklevoss twins are brilliant. But for me personally the show stopper is Andrew Garfield as Eduardo Savarin. His acting is so heart warming that I have taken an instant liking towards Eduardo. You feel for him as he manages to touch your heart with a moving performance.
What made me like this movie the most is that it brings out the point of view of every character. It shows why every person thinks he is right in his place. You can see why Mark Zukerberg thinks Facebook is his idea and why the Winklevoss twins differ. You can see why Eduardo feels that he has been cheated which Mark fails to see. The decision of deciding who is right or wrong is up to you. It's you who has to decide if Mark Zukerberg is a hero or the villain or just human.
It's a must watch!
Ratings – 4 1/2 out of 5.